How Do I Check Tire Tread Depth?

---
Are you searching the internet for, "How do I check tire tread wear?" The team at Garavel Subaru has your answer! All that's needed is a ruler or a penny, and you can then check your tire tread depth right at home in Westport. Learn more and contact us if you have questions.
What is the Recommended Tire Tread Depth?
With new tires, they have a tread depth of about 10/32 or 11/32 of an inch (about a third of an inch). When it comes to winter and off-roading tires, as well as some pickup truck and SUV tires, they will have deeper tread grooves.
The U.S. Department of Transportation recommends replacing your tires at 2/32 of an inch. Many Fairfield drivers know that proper tire tread depth is needed for safe driving on the roadways, as well as extending the life of your tires.
The Penny Test
The most accurate tool to inspect the tire tread is a ruler, but using a penny works great. To perform the penny test, follow the steps below.
Insert a penny with Lincoln's head face first into a tire tread groove.
Observe if Lincoln's head is covered and no longer visible between the grooves.
If you can see all of Lincoln's face, that means your tire treads are 2/32 inches deep or less and it's time to replace them.
Repeat this process on all four tires and in multiple locations on each tire.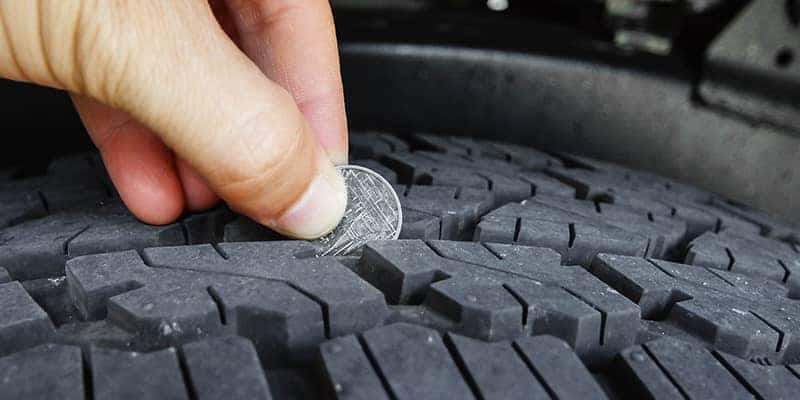 More Ways to Check Tire Health
There are other tools available in the New Canaan area to inspect your tires, which includes a tire tread depth gauge or tread wear bars that have a visible mark that's built into the tire indicating the 2/32 inch mark. During your inspection, there are a few things to inspect:
Tire pressure
Any visible tire damage
Tire rot or disintegration
Wheel alignment
Learn How to Check Tire Tread with Garavel Subaru!
If you would prefer, you can visit the Garavel Subaru service center to inspect your tires, as well as for all of your maintenance needs. Our Subaru-trained technicians will efficiently inspect your tires for any issues or major wear. Visit our tire center when it's time to replace your tires, and make sure you peruse our parts and service specials for added savings.
More From Garavel Subaru
The 2020 Subaru Crosstrek is back with an adventure-ready design, versatile performance, and spacious interior. And if you're ready to take this popular crossover on the roads of Wilton and New Canaan, you might be wondering about the differences between crossover vs. coupe or coupe vs. sedan, but even more likely, you'll be itching to learn…

As you'd expect from Subaru, the 2020 Subaru Outback interior provides Westport drivers with tons of passenger space and cargo volume. 2020 brings a full redesign for compact crossover wagon, with significant upgrades to the Outback's cabin materials, and new technology features that create a cool, high-tech feel. Great for camping, general shopping, road-tripping, and…

The new Subaru Forester was designed with style and comfort in mind. Whether you're commuting to and from work in Norwalk or planning a trip outside of Westport to go camping, the Subaru Forester has the versatility to fit your friends and family while stowing your supplies safely. Read more about the 2020 Subaru Forester…