Covid-19 Update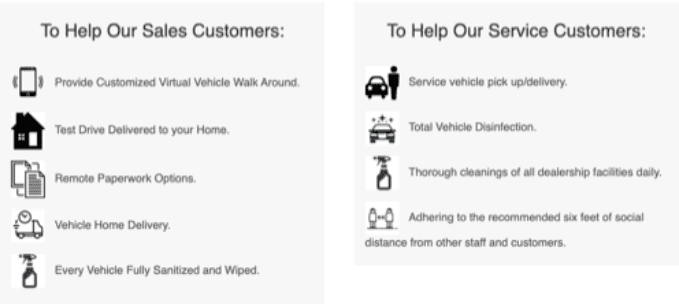 We've taken some time to reflect on our core values and how they are affected by this, and how they direct our decisions.
Disciplined Thought:
Having the discipline to think about the long-term over the short-term is the reason we voluntarily made the decision to close a week earlier than the government mandate (with an additional week paid to employees). No short-term gains are more important to us than protecting our team.
Responsibility:
Usually we would take ownership of our results, but it is frustrating that there is no one to blame for coronavirus. There are certain things within our control and many things which are out of our control. It is not constructive to worry, but it is constructive to stay vigilant, prepare for the future and do our best to help who we can.
Customer Appreciation:
We appreciate customers enough to know that we can only open to them when we are prepared to 1) keep them safe and out of harm's way, 2) do a good job. This led to us taking many proactive steps to make sure customers are protected including – limiting the amount of scheduling so few customers are in the building at one time, offering pickup and delivery for service, disinfecting high-touch areas of each car before and after service, etc.
Perhaps more importantly, we are staying open for emergencies. Though we are not at full capacity, we encourage anyone with an urgent need to reach out to us. If it is not urgent, we ask you to wait – respecting rule of law right now and respecting your fellow humans is something we fully encourage.
Potential:
Doing our best is important. "Best" is relative. We're trying the best we can and it is only a matter for time before we get through this and all be back to selling and servicing cars.